Rules of our behavior within the spaces that we occupy are constantly changing as the continuous advance in technology is enabling new patterns of interactivity. Nevertheless, it is apparent that architecture, the environment we interact the most with, doesn't really interact with us. This project questions how such dialogue can be built with the utilization of contemporary machine learning and machine vision frameworks, enabling autonomous architectural system development. The pipeline examines concept development by analyzing occupant behavior within their environments as well as simulating engagement and prototyping interaction, needed to design responsive, adaptive and interactive space.




CO-CATALYTIC ENVIRONMENTS
DESIGNING INTERACTIVE BEHAVIOUR DRIVEN SPACES
Masters thesis project


Academic work



Design processes revolve on trying to find an ideal outcome from the landscape of all the possibilities. While designing an object, a space, a house, the goal is to make it comfortable, functional and good-looking. While UTILITY, COMFORT and AESTHETICS do intersect quite a lot, interactive environments can enable design, that is able to be what it needs to be at a particular moment in time. Making spaces adapt, change, interact.
SPATIAL DELINEATION
SPATIAL AESTHETICS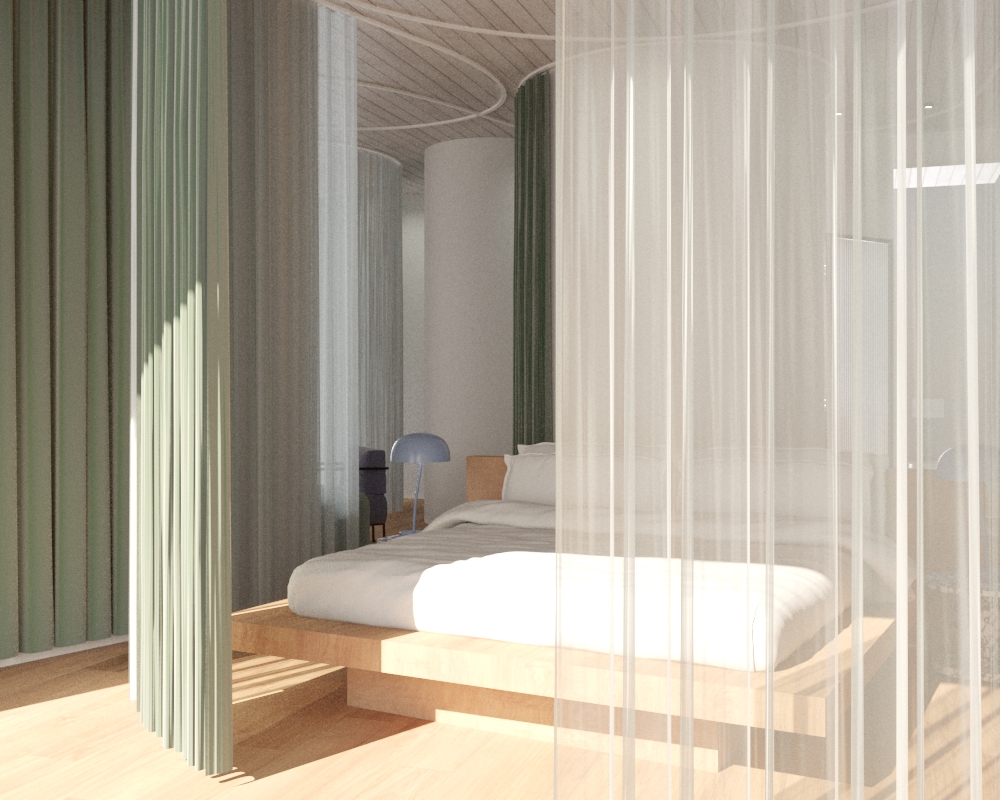 INTERACTIVE LAYOUT
Proposed design suggests an ever changing landscape that shifts and localizes the attention to the needed part of the space, like a surround sound audio system, that allows you to select where in the room you are listening to the music, this allows you to sellect where and function you're part of, to optimise the environemnt.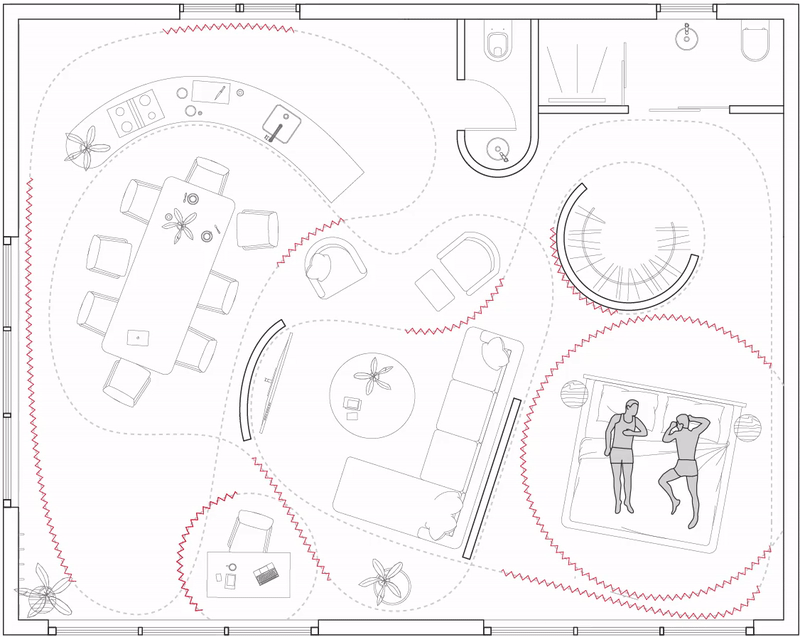 INTERACTIVE ROBOTIC SYSTEMS


Design of an autonomous robotic system to enable radical change of space involves a rail system to maneuver through, an array of cuntional textiles to manipulate the space, and a virtual environment model functioning as a digital twin to inform the wirelessly controlled robotic movers on the spacial changes.
BEHAVIOUR DRIVEN INTERACTION








A phisycal demonstrator in action, reacting to a presence of a person, providing a spatial adjustment by following a simple binary logic: 01 stay close; 00 move away. Using computer vision and simulation tools to see and predict potential outcomes.
INTERACTIVE DEMONSTRATOR
'Catalysis' is a perfomative installation which is enabled by the human agent acting in the space. Movement of the textiles are controlled by live scanning the space of human presence, providing agency to the robotic actuators. The curtains draw open and closed, creating and exploring latent spatial arrangements.
FURTHER DEVELOPMENTS